Introduction
I got the idea for this app when I heard that one of the shelters in Lisbon has 700 animals. The subject of helping animals in need is very close to my heart and I would like to work on similar projects in future.
Context
According to the ASPCA, approximately 6.5 million companion animals enter U.S. animal shelters nationwide every year.
Approximately 3.2 million shelter animals are adopted each year.
Each year, approximately 1.5 million shelter animals are euthanized.
APPA reports that 34% of dogs are purchased from breeders, while 23% of dogs and 31% of cats are obtained from an animal shelter or humane society.
Approximately 40% of dog owners and 46% of cat owners learned about their pet through word of mouth. (Source: ASPCA)
Overview
The main purpose of the app is to connect people who would like to adopt a pet. Users can find shelters nearby, filter animals by different categories, contact shelters or book a visit.
Amica means "friend" in Latin.
Challenge
The main challenge I faced was to make the process of adopting a pet from shelter fast and simple. Also, for shelters, it needs to be easy to list animals and communicate with those who are about to adopt a new pet. It is important to offer enough information about an animal so that users can easily decide.
Persona
Based on many discussions with friends and family, as well as online research, I learned about the most important pain-points in regards to pet adoption and made a persona of a user.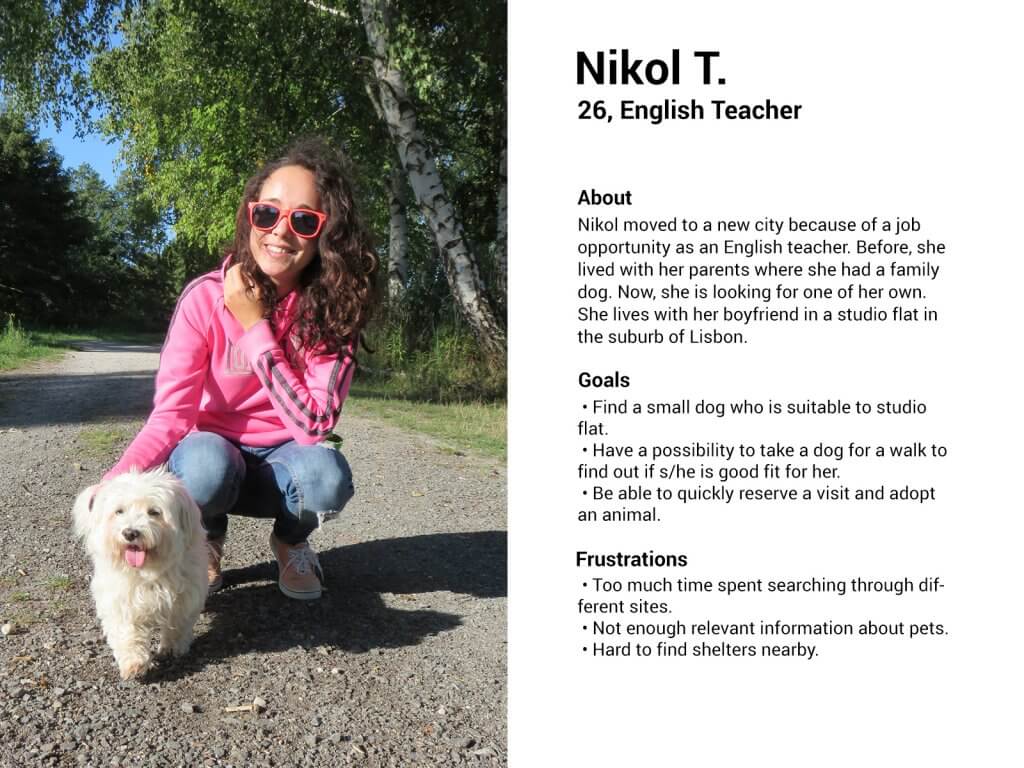 User Flowchart
To understand the overall structure of the app and also each step from opening the app to desired action, I created a user flowchart. There are two main flows, first for a person looking to adopt a pet and second for the admin of the shelter.

Wireframe sketches
Wireframes also called Skeleton of the app helped me to get ideas from my head on paper and organize the key elements and features. I could see relationships between each element and make further adjustments.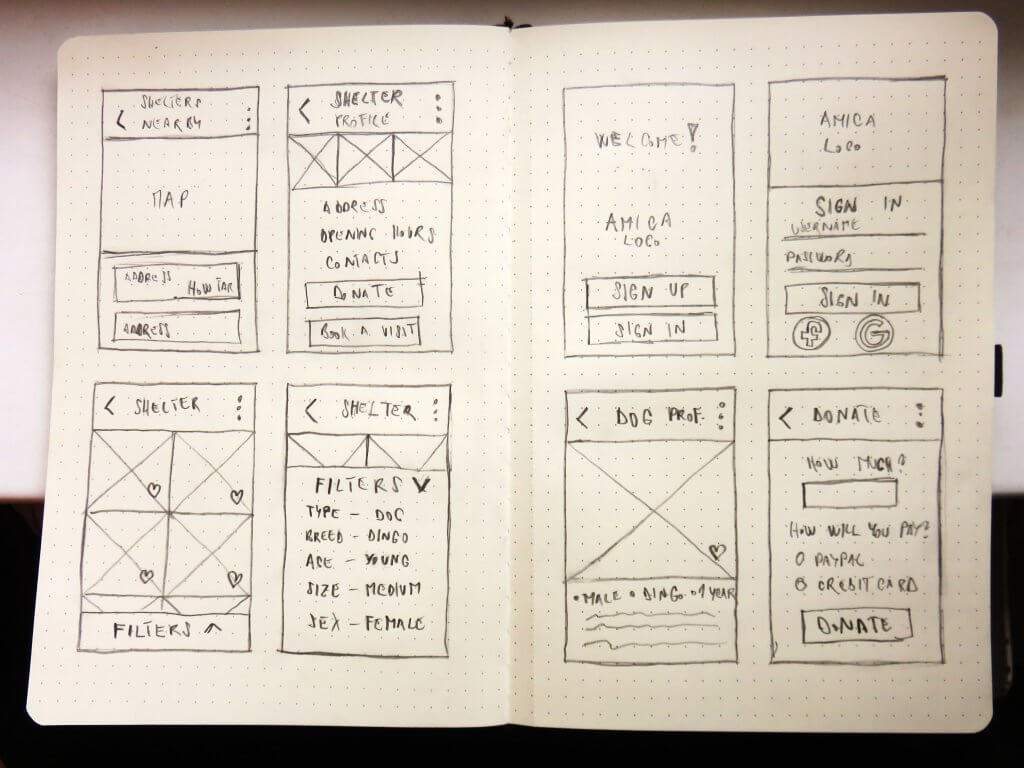 Final design
For the final design, I used a blue monochromatic colour scheme. Blue represents trust, loyalty and dependability, which I think reflects the relationship between people and their pets.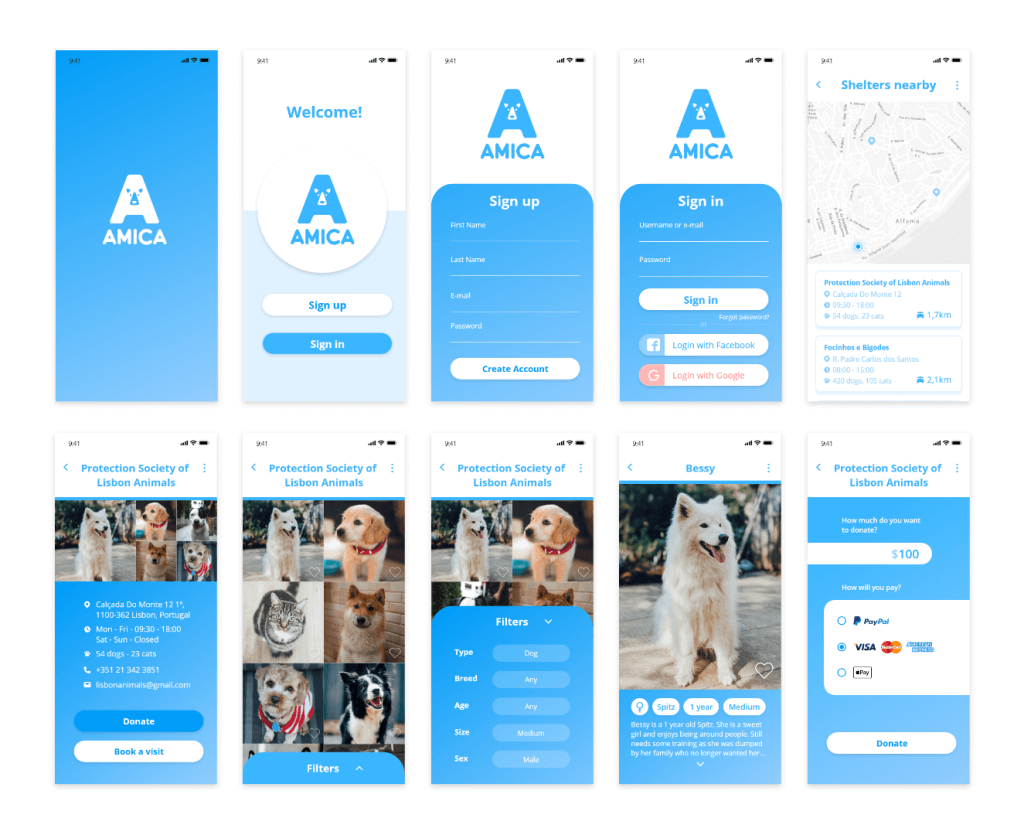 Conclusion
I developed this app as a final project for Product Design course by Udacity and also to learn and understand the UX design process. The key outcome for me was to get a better understanding of the process behind app development and user experience design.
Making the process of adopting pets from shelters easier could convince more people to do it and save many lives. The important question is how to find enough resources to be able to scale the app to the point when it's available globally with multiple languages and with a big database of shelters so that people actually find it helpful and use it.
Next steps in the process would be to do the user testing and iterate upon that, maybe repeat it a few times. In this case, it ends with final designs.
For me, it's all about learning and understanding. That's why I would love to hear your feedback: How can I make it better? Is there something missing or something that doesn't make sense?
Please contact me on hello@jezovic.com or through social media below.